CNN News Reported: Meet the rebel Thai composer taking music to unheard heights
CNN News: Young and Gifted the series
interviewed by Karla Cripps, Tham Dan
CNN News reporter reported our ensemble director Piyawat Louilarpprasert. He shared new aspect of art, music and one of his recent performative piece, Smelly Tubes for ensemble Taceti and Princess Galayani Vadhana Institute of Music Performers.
Link to the interview and video: here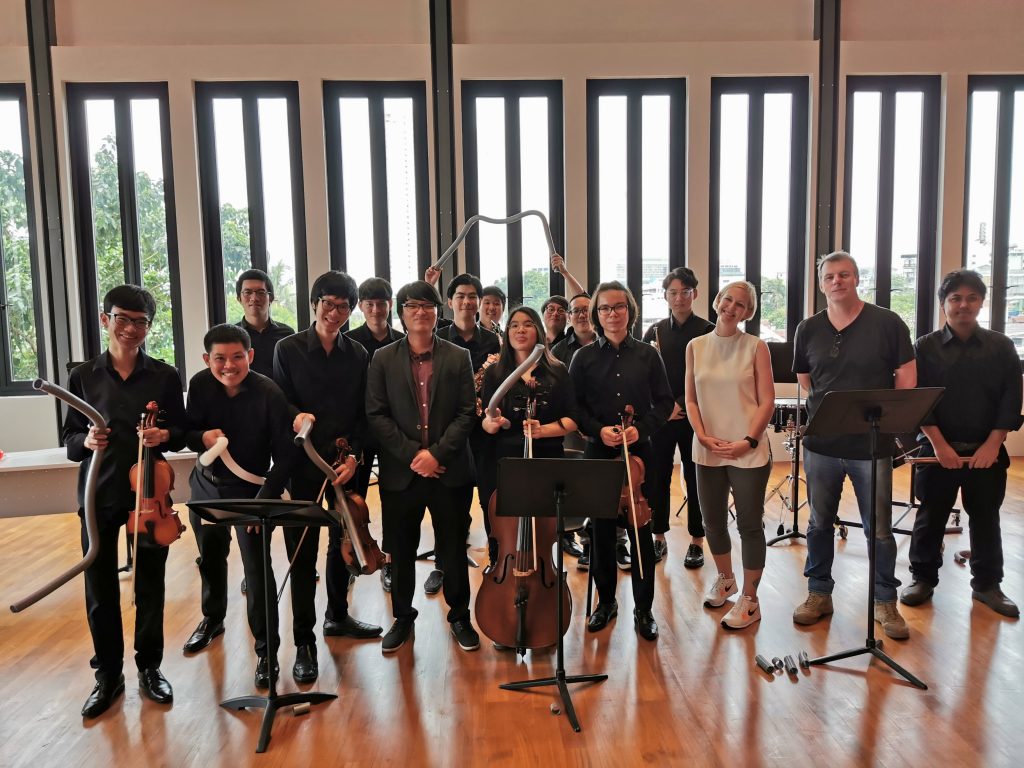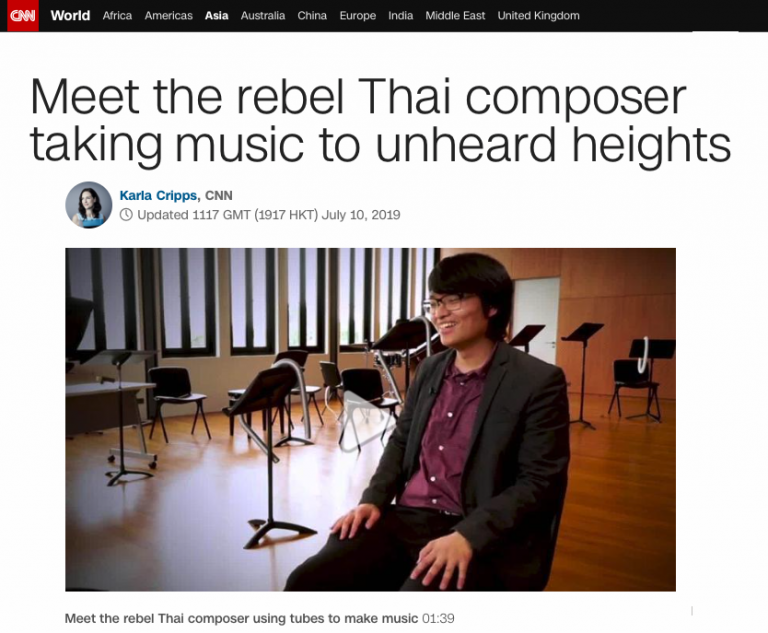 Winners Announcement
Tacet(i) Ensemble Call for Scores 2020
ONLINE PERFORMANCE
Tacet(i) Ensemble Call for Scores 2020
Tacet(i) is happy to announce 2020 Call for Score which aims to perform selected piece virtually through social media platforms. We are seeking for new pieces and creative works to be featured in our performance season during August, as well as a collection of our ensemble's repertoires.
Regulations:
- No application Fees
- Regardless of Ages, Genders, Nationalities and Number of Submissions
- Any combination from 1 - 7

 

instruments from the list: flute, clarinet, saxophone, trombone, piano, guitar, percussion, 2 violins, viola, cello, electronics (any media are possible: videos, installations etc.)
- 3 - 5 works will be selected to perform virtually during August 2020

 

- Upload your piece(s) and 1 - 3 pages CV in PDF with a google drive or dropbox link and send to tacetiensemble@gmail.com (all material should be in 1 link)
- Deadline: 15 July 2020
- More information: www.tacetiensemble.com, email: tacetiensemble@gmail.com,
Beyond Boundaries: Thailand New Music and Art Symposium 2019
Piyawat Louilarpprasert is appointed as an artistic director and curator for Thailand New Music and Art Symposium 2019 at Bangkok Art and Culture Centre, Thailand. The event was such a success with more than 70 participants (artists, composers, performers) from around the world and full house audience (500pp +). This huge success leads him to continue as a TNMAS director in 2020. This year event is kindly supported by Princess Galayani Vadhana Institute of Music, Mario Einaudi Centre, Cornell University, and many more, as well as, great collaboration with Ensemble Laboratory and ensemble Taceti.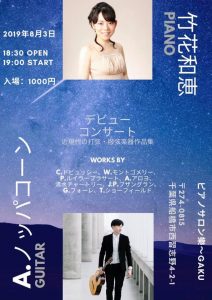 Collaborative Concert in Funabashi-City Nishi-Narashino: Noppakorn Auesirinucroch X Kazue Takehana
One of Taceti Member, Noppakorn Auesirinucroch will collaborate with Japanese artist, Kazue Takehana to perform new works by Thai, Japanese and international composers at 7pm, August 3rd, 2019,  274-0815 Chiba Prefecture Funabashi-City Nishi-Narashino 4-2-1, Japan. Proud of him.
NEWS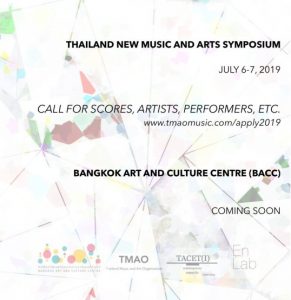 Thailand New Music and Arts Symposium
6 - 7 July, 2019, Bangkok Art and Culture Center (BACC), Bangkok Thailand
Tacet(i) is back with a new collaboration with Thailand Music and Arts Organization and Ensemble Laboratory to curate a symposium of arts and music. We are launching Call for Scores, Artist and performers.
more info: www.tmaomusic.com
Romantic Symphony VS Contemporary
15 – 16 February 2019, Prince Mahidol Hall, Salaya, Thailand
Tacet(i) Members; Pisol Manatchinapisit will perform Piyawat Louilarpprasert new saxophone concerto, Pixels with Thailand Philharmonic Orchestra, Alfonso Scarano, conductor,
Guntiga Comenaphatt is also one of the member of the orchestra.
Buchanan – "all-forgetting-is-retrieval" (2019) for Tacet(i): septet, augmented conductor, and electronics
Louilarpprasert – Smelly Tubes (2019) for 14 instrumentalists
SUTHIYAM – Art Abstract for Ensemble and Dancer
LOUILARPPRASERT – P(l)ay your Sin in Hell for prepared guitar and sax neck with tube
SOOKJAENG – Flashback for Ensemble