NEWS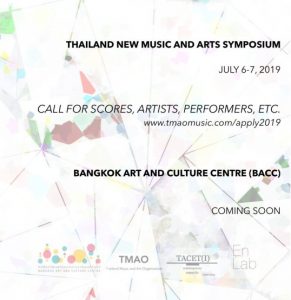 Thailand New Music and Arts Symposium
6 - 7 July, 2019, Bangkok Art and Culture Center (BACC), Bangkok Thailand
Tacet(i) is back with a new collaboration with Thailand Music and Arts Organization and Ensemble Laboratory to curate a symposium of arts and music. We are launching Call for Scores, Artist and performers.
more info: www.tmaomusic.com
Romantic Symphony VS Contemporary
15 – 16 February 2019, Prince Mahidol Hall, Salaya, Thailand
Tacet(i) Members; Pisol Manatchinapisit will perform Piyawat Louilarpprasert new saxophone concerto, Pixels with Thailand Philharmonic Orchestra, Alfonso Scarano, conductor,
Guntiga Comenaphatt is also one of the member of the orchestra.
SUTHIYAM – Art Abstract for Ensemble and Dancer
LOUILARPPRASERT – P(l)ay your Sin in Hell for prepared guitar and sax neck with tube
SOOKJAENG – Flashback for Ensemble